What: IMMIGRATION MURAL BY HUONG
            FIRST TIME SHOWING IN NEVADA
When: July 7th – 10th, 2012
Where: Mandalay Bay Hotel & Convention Center
             3950 Las Vegas Boulevard South
             Las Vegas, NV 89119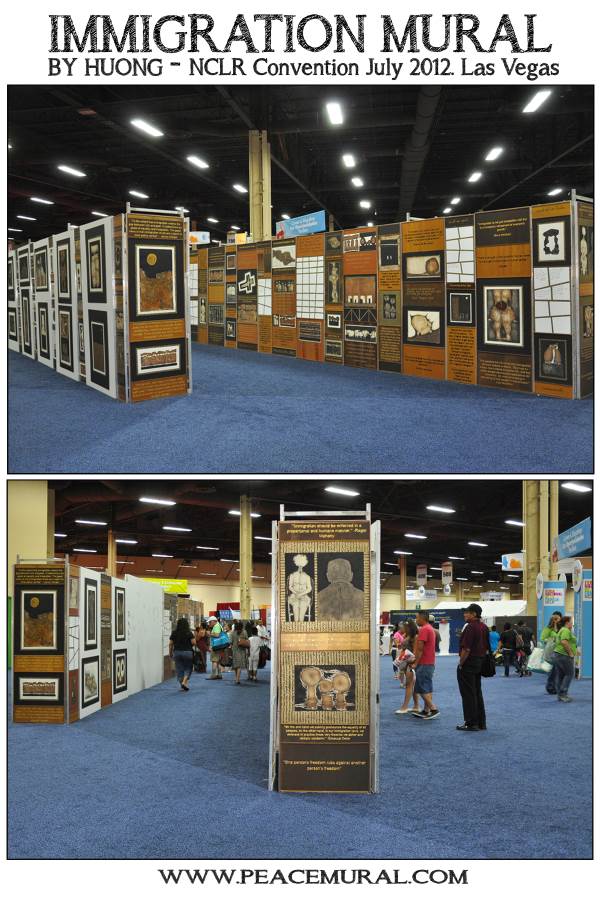 Great news! The Peace Mural Foundation has just been invited to present our newest project, the mural IMMIGRATION – Wall of Borders, for the first time at the National Council of La Raza (NCLR) 2012 Annual Conference in Las Vegas, July 7th – 11th. The conference is a gathering point for those involved in the Latino community to discuss relevant topics, such as education, health, and policy updates.
Based on the artwork of the late Joseph Demarais (1927-1971), this massive art project is led by Huong, an artist, refugee, survivor of the Vietnam War, and fervent social activist. The three main goals in exhibiting this mural are 1) to capture the voices of American history and move the subject of immigration reform forward; 2) to motivate the public to reflect on their own ancestors and understand the fundamental input that immigrants have contributed to the success of this nation; 3) to mediate between the supporters and the opponents of immigration, respecting all opinions, voices, and perspectives.
"IMMIGRATION Wall of Borders" is a fresh contribution to the raging debate around this social issue. Like Huong's previous murals, it is a dynamic and interactive work that invites the public to get involved. Visitors can leave their signatures on the mural or add their opinions and comments regarding the issue of immigration. In this way, the piece creates its own civic and civil dialogue, a contribution to the solution of this problem that affects so many of us here in the United States.
"It is a giant book combining the life work of the late artist Joseph Demarais and more than 200 quotes, presenting the different voices of America―from the first president to the newest immigrants, from the Constitution to the current debates on this critical national issue," Huong notes. "I hope viewers will see where America comes from and consider where they want it to go, how today's immigration policies will shape our future."
This is the first time "IMMIGRATION Wall of Borders" is showing in Nevada. A significant number of the population in Las Vegas is Latino. The mural is a peaceful instrument to educate Latino and American communities alike on the timely issue of immigration policy reform in the nation. The Peace Mural Foundation is looking forward to this four-day long event beginning July 7th, 2012 and invites you to come to participate and stand with us as we bring this dynamic mural to the 40,000-plus attendees.
Miami Herald Article: http://www.miamiherald.com/2012/01/14/2587815/the-art-of-immigration.html
Foreign Policy in Focus: http://www.fpif.org/articles/giving_voice_on_immigration
"The issue of immigration is important to our nation, it's important to our public safety, it's important to our security, it's important to our economic well-being. And it's not something that's going to go away."
                                                                                         --Janet Napolitano, US Secretary of Homeland Security